Credit: Clint Patterson
Halloween is one of the biggest holidays that people decorate for, but often those decorations can add up to hundreds of dollars. Many people can not afford these types of decorations, so we've created a list of twenty cheap and easy decorations for Halloween so you can still have the best house on the block, without breaking the bank.
RELATED: Popular Halloween Costumes for Kids 2023
20. Toilet Paper Roll Eyes
Create these fun renditions on creepy eyes peering through the bushes with two items – toilet paper rolls and glow sticks. Cut out a pair of eye shapes in each toilet paper roll and then attach a glow stick into the inside. Place them in a shrub or tree, and make visitors think there's something else outside with them.
19. Spidery Mason Jars
Perfect for a table centerpiece or on the porch, these spidery mason jars need four items – mason jars, cotton balls, dollar store spiders, and glow sticks. All you need to do is fill up your jar with the cotton balls, spiders, and a glow stick to create an eerie jar with just enough spiders to be creepy.
18. Candy Corn Vases
These would be great as a centerpiece on a dining room table, or on a mantle. All you need is yellow, orange, and white spray paint, and empty wine glasses. First, spray the bottles all white with the spray paint. Then, use the orange spray paint and paint the bottom two-thirds of the bottle, and finish with the yellow on the bottom third of the bottle.
17. Melted Crayon Pumpkin
All you need for this fun twist on decorating a pumpkin is crayons, a white pumpkin (or paint a pumpkin white), and a hairdryer. Place your desired color crayons on the top of the pumpkin near the stem. It's best if you can cut the crayons in half before laying them down. Then use the hairdryer to slowly melt the crayons down the sides of the pumpkin until it's to your liking.
16. Monster Doors
Create Frankenstein, a mummy, or other recognizable monsters on your front door with construction paper, streamers, and googly eyes. This takes some creative freedom, and can even become an entirely new monster if you want.
15. Trash Bag Spiderwebs
If you want weather-proof spiderwebs that are big enough to stretch across an outside window, try transforming a couple of garbage bags into spiderwebs. Take the garbage bag and fold it into a triangle and cut strips of the bag off, always cutting towards the largest fold. After a few cuts, you should have a stellar spiderweb.
CHECK OUT: 14 Halloween Hair Ideas to Take Your Costume to the Next Level
14. Cardboard Tombstones
These might not last in damp environments, but they do look super cool once fully assembled. For these tombstones, you need cardboard, newspaper, modge podge, paint, and letters (you can also just draw them on). Cut out two identical headstone shapes with a rectangle of cardboard connecting them together. This will create the 3-d effect. Then modge podge newspaper over the open space on top, paint the whole thing gray, and then add your name and dates.
13. Ping Pong Eyeball Wreath
You'll need a lot of ping pong balls for this next Halloween decoration. With a foam wreath form, attach a bunch of ping pong balls with an eyeball design onto the wreath form until there are enough eyeballs to scare even your adult neighbors.
12. Cauliflower Brains
Cauliflower kind-of looks like brains, so why not use this healthy vegetable as your next decoration! Take a large jar and fill it at least halfway with water. Next, grab a cauliflower and remove all of the leaves and greenery, and add some red food coloring to look like veins coursing through the "brain." Slowly lower the brain into the water, and make it your next centerpiece.
11. Spooky Yard Signs
You've all seen those signs in movies – "Keep out!" "Danger Ahead!" "Beware!" Well, maybe it's time to make your own for your house. Just grab an old curtain or sheet and paint your favorite saying onto the fabric and hang it outside of your house.
10. Skeleton in Wheelbarrow
If you have an old wheelbarrow just sitting around, it can become your new Halloween decoration this year. Set the wheelbarrow in your front yard and fill it with dirt, and go out and buy a plastic skull and bones to scatter around in the dirt. Nothing is creepier than a skeleton sitting in a wheelbarrow in the front of your house.
9. Hanging Cobwebs
Cover your doorways with these hanging cobwebs to make all of your guests feel like something is crawling on their back. With longer pieces of cheesecloth, drape over the doorway and cover with an assortment of plastic spiders, and attach with double-sided tape.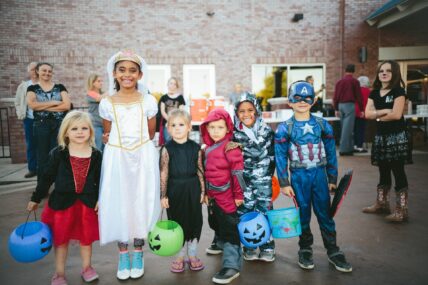 8. Halloween Monster Silhouettes
If you don't want a ton of outdoor decorations, but still want your house to look festive, try out Halloween monster silhouettes. All you need is a good drawing hand and some black construction paper. Draw, or trace, the characters onto the construction paper and cut them out, and then stick onto your window with double sided tape. Your house will look infested with monsters in no time!
7. Dancing Lawn Ghosts
These fun little ghosts can populate your lawn for the whole month of October, and dance in the oncoming Fall breeze. All you need for these ghosts are styrofoam balls, a stake or dowel, white fabric or cheesecloth, and hot glue or white push pins. To build the ghosts, attach the dowel to the styrofoam balls to create the skeleton (pun intended) of the ghost. Then attach the sheet to the ball with either glue or push pins.
6. Floating Witch Hats
Similar to the floating candles in Harry Potter you can create your own floating witch hats to hang from your porch or ceiling. Purchase a couple of witch hats and fishing line for this project. Either thread or tie the fishing line to the top of the witch hat and attach it to your ceiling in any way you prefer.
5. Pumpkin Face Wooden Pallet
Wooden pallets can be a little harder to come by, but if you can get one this decoration is perfect for a larger lawn. Just paint the pallet orange and with some scrap plywood, cut out your face shapes. Paint those pieces black and attach them to the pallet with nails.
4. Trash Bag Witches
Another fun decoration using black garbage bags is trash bag witches. You will also need a witch hat, stake, and foam shapes in order to give the body some form. Drape the bag onto your desired witch shape and add the hat to the top of the "head."
3. Pumpkin & Moss Wreath
For this decoration, you will need a foam wreath form, moss and lichen pieces, mini white pumpkins, floral pins, wire, and hot glue. Basically, take the wreath form and attach the lichen, moss, and pumpkins wherever you want, and secure with the floral pins and hot glue.
2. Leaf Ghosts
If you have smaller children and they want to help make decorations, try out this fun DIY project. Go outside and grab some fallen leaves that aren't too crunchy yet and some white paint. Paint both sides of the leaf white and then draw two black eyes on the leaf, and now you have a ghost leaf. Boo!
1. Skull Sunflowers / Cheap and Easy Decorations for Halloween
This last Halloween decoration is spooky, but also fits into the Fall aesthetic very well. Buy some large fake sunflowers, plastic skulls that will fit in the center of the flower, and dried Spanish moss. Cut off the back of the skull's head and attach it to the flower, making sure to cover up the connection point with the Spanish moss.
Halloween is a great holiday, as you can celebrate not only the incoming Fall weather, but enjoying everything that is spooky and scary while dressing up as your favorite character. Make sure your Halloween is even better with some of these cheap and easy decorations for Halloween, and make this holiday a true treat.
ALSO READ: How to Be More Sustainable at Home