I have to admit that I had zero expectations before arriving in Qatar, the small peninsular country that juts off Saudi Arabia like a tiny, waving arm. And actually, in full transparency, I should probably confess that Qatar wasn't even on my radar as a potential tourist destination until a month or so before landing in the country's capital, Doha.
Why Doha, Then? Myultimate destination was a luxurious week-long stay at two insane Four Seasons properties in the Maldives —Landaa Giraavaru (a UNESCO reserve) and Kuda Huraa. But lucky for me (and for you), Qatar Airways and the Qatar National Tourism Councilboasts an unprecedented stopover program that allows you to chill in Doha for one to four nights at a crazy affordable price. I'm talking around $30 a night at a five-star hotel affordable.
If you're wonderingwhythe country does this, the answer is simple: because they're on a mission to bolster their tourism industry. Iceland did something similar with stopover flights, which I actually partook in twice on my way to Europe. (You probably saw that the initiative worked. How many people do you know who've been to the chilly Nordic country?). The primary difference is that Qatar and Qatar Airways absorbs the majority of the cost, since they have fostered relationships with bougie hotels throughout Doha.
Long story short: Doha wasn't on my "must visit" list, but I was overwhelmed by the magic of the city — the skyline literally glitters! — and I haven't been able to stop raving about my time there since I got back.
A 24, 48, and 72-Hour Guide to Doha
While in Qatar, I made use of every second of each day and am fully equipped to help you plan your 24 to 72-hour stopover. I've prioritized sight-seeing in the order I feel makes the most sense, but there's a lot of flexibility here. The country is small enough — at 4800 square miles, it's half the size of Vermont — that you can really mix and match as you prefer.
Day 1:
Golden Mosqueor Katara Mosque: As you may know, Qatar is a predominantly Muslim country, so make visiting one of the country's beautiful mosques a priority. The Golden Mosque is the city's largest and most grand. The Katara Mosqueis humble in size, but I found it to be more beautiful with its ornate, colorful tiles. Note that men and women will both need to cover their shoulders and knees here.
National Museum of Qatar: Doha boasts a number of outstanding museums, but if you're going to choose just one, let it be the new, $434-million National Museum of Qatar, which opened in March 2019. Designed by architect Jean Nouvel, who's also responsible for the Louvre Abu Dhabi, it's built to look like a desert rose and features exhibits dedicated to Qatar's history.Note that men and women will both need to cover their shoulders and knees here, as well.
Souq Waqif: The Souq Waqif is Doha's oldest "souq" or standing market, and it's a non-negotiable must-visit. It boasts countless shops, including the falcon souq, spice souqs, silk souqs, and the pearljewelry shop run by 75-year-old Chantelle D'mello, the world's oldest (former)pearl diver. For dinner, dine at the mesmerizing Parisawithin the Souq Waqif, which features thousands of hand-picked mosaics, chandeliers, and mirror tiles that took nearly four years to install.
Day 2:
Camel Race at Al Shahaniya: You've heard of horse races, but what about camel races? It's an outrageous experience you'll never forget or stop bragging about. The tradition began in the 1970s and has proven quite lucrative. Line up with other cars, which drive alongside the camels as they race, and afterward you can get out and mingle with the camels. Races run from 10 a.m. to 2 p.m. and entry is free. It's about a 45-minute drive from Doha.
Lunch and Shopping at The Pearl: After hanging out with the camels, head on over to The Pearl for lunch (I recommend Yasmine Palace) and an afternoon of modern luxury shopping. The Pearl is a human-made sprawling island, and one of the largest real-estate developments in the Middle East.
Sunset Dhow Cruise: Qatar's original stream of revenue came from pearl diving, but when farmed pearls were invented in Japan, the city experienced a financial crisis, eventually turning to oil production. These "dhows" — or pearl-diving ships — were abandoned, but the Amir initiated a renovation project and now the boats can be hired by tourists or locals. Show up at the Corniche at around sunset and hire a boat (haggle your heart out!) and watch the glittering skyline from the sea.
Then, instruct your boat operator to take you to Al Mourjan for dinner, which is right on the water and offers a beautiful view of the multi-hued, sparkling skyline. (FYI, each building has its own sequence of flashing lights to create the glittering effect.)
Day 3:
Al Shaqab Tour: In addition to camels, Qatar is known for its majestic Arabian horses and horse racing. A handful of tours are available at Al Shaqab, where the horses are housed, trained, and groomed. It's all five-star accommodations for these pampered horses, and you'll realize it's unlike any other stable you've seen. Think air-conditioned quarters, equestrian spas, indoor horse swimming pools, and more.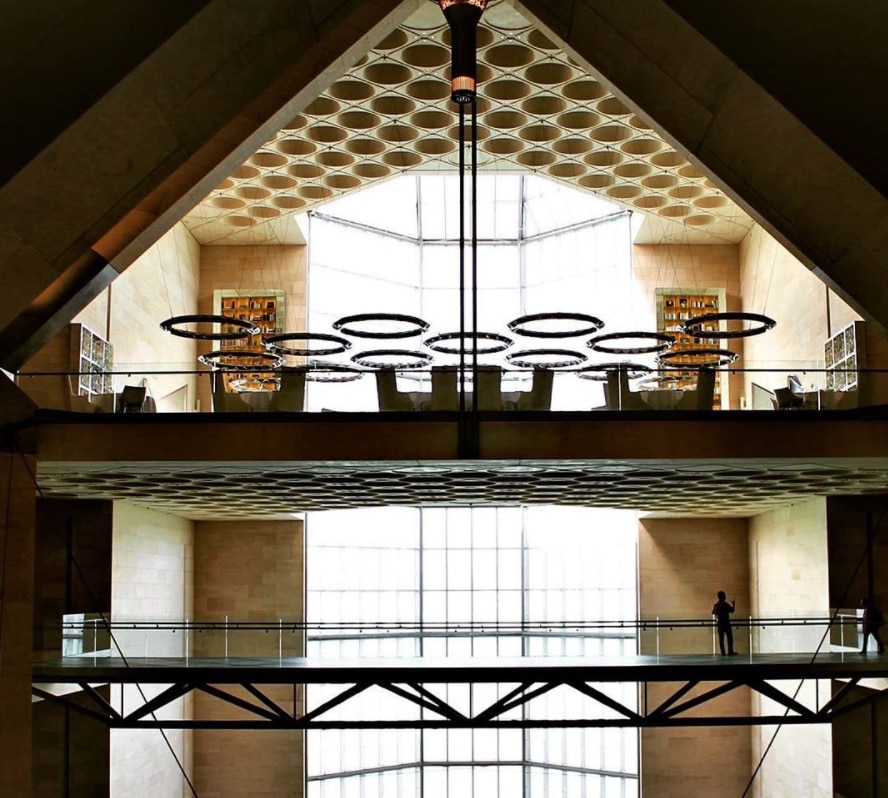 Museum of Islam Art: Another one of the country's crowning museums is the Museum of Islam Art (MIA), which features metalwork, ceramics, jewelry, woodwork, textiles, and more from Islam cultures throughout history. The building was designed by architect I.M. Pei and sits on an artificial island that overlooks the skyline (don't forget to poke outside for a picture). Note that men and women will both need to cover their shoulders and knees here.
Desert Safari at Khor Al Adaid: Qatar's silky sand dunes beckon. If you have the time, I highly recommend a dune bashing safari. Ride camels and then dune bash your way to the Khor Al Adaid, an inland sea and UNESCO reserve recognizedas one of the few places in the world where the sea encroaches deep into the heart of the desert. You'll want to hire a tour company — try Q-Explorer or Embrace Doha.
A Note About Culture & Safety
The middle east has a reputation for being quite conservative, though I found that Qatar has a relatively liberal attitude toward most things compared to other areas of the middle east I've traveled. Tourists can dress however they prefer (except for in mosques and some museums where knees/shoulders must be covered), though you'll blend in better with moderate apparel.
The country is considered one of the safest in the world — it's rated as Level 1 by the U.S. government (for comparison, Mexico is rated at Level 2) — and I felt exceptionally welcomed, safe, and comfortable the entire time. I have zero doubts I'll be back to this magical land, ideally with more people in tow to show them what this country has to offer.
You might also like:The Most Exotic Place You Can Travel To Sans Passport