We all love the crunch of crispy potato, and this Stuffed Potato Pancakes recipe delivers that and a whole lot more:
In this recipe, we use mushrooms and onions inside a pocket of mashed potatoes. However, you can use any ingredients, like bacon and cheese, inside the pancake.
So, check out the video above to see how it is done, or read through the ingredients and step-by-step instructions below.
Related: 11 Amazing Time Travel Movies And Where To Watch Them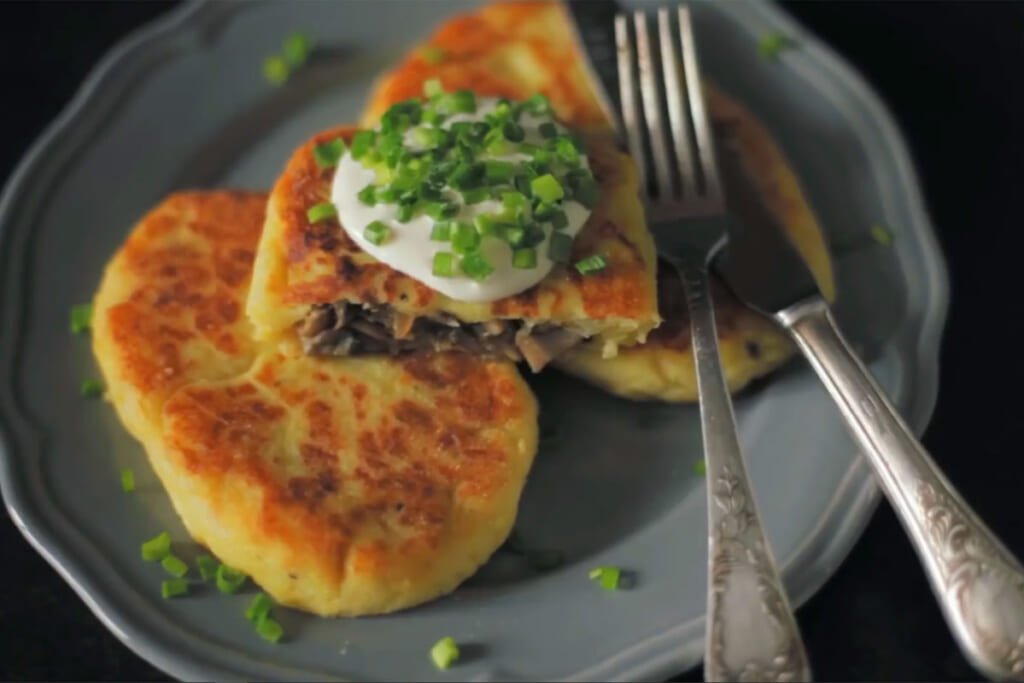 Ingredients
6 Large Potatoes
1 Egg
1 tbsp. of All Purpose Flour
4 tbsps. of Cornmeal
1 Onion
400g of Mushrooms
Salt (To taste)
Pepper (To taste)
Cooking Oil
Sour Cream
2 tbsps. Chives (Chopped)
Cooking Steps
Wash and peel the potatoes, and then cut into quarters.
Add the potatoes to a saucepan and cover with water.
Add salt and cook the potatoes over a medium heat until soft enough to mash.
Clean and slice the mushrooms finely.
Peel and chop the onion finely.
Over medium heat, add cooking oil to a pan.
Add the mushrooms and onions to the pan (step 6).
Stir and season the mushrooms and onions and cook until softened and golden brown.
Once the potatoes are soft, drain the water, and add the potatoes to a bowl.
Mash the potatoes thoroughly.
Add the egg and cornmeal to the potatoes and combine.
Season the potato mix with salt and pepper, to taste.
Dust a surface with flour.
Place 3 tbsps. of the potato mix on to the flour and gently flatten into a circle.
Place a heaped tbsp of the mushroom and onion mix into the center of the flattened potato.
Carefully fold in the edges of potato so that it covers the filling.
Press down to seal the potato.
Repeat steps 14-17 for each pancake required.
In a clean pan over medium heat, add cooking oil and cook each side of the pancake for 4 minutes.
Once both sides of the pancake is golden, remove from the pan and let it rest on papertowls to drain excess oil.
Serve while hot with sour cream and chopped chives.
Tell us what you think of this Stuffed Potato Pancakes recipe on Facebook now.
Share: