National Parks in America You Must Visit
Last year marked a momentous occasion for the National Park Service — it celebrated its centennial on August 25, 2016. President Woodrow Wilson signed the "Organic Act" on August 25, 1916, creating a tradition to secure, protect and maintain the country's natural wonders and historical sites. Yellowstone was America's first national park and the most recent addition to the 59 federally protected areas is Pinnacles National Park.
These sites preserve and highlight the stunning beauty to be found in America and are definitely bucket list material. See iconic Half Dome at Yosemite or witness the remaining remnants of Appalachian culture at Great Smoky Mountains. While each have their own unique draw, the locations in GAYOT's list of Top 10 U.S. National Parks offer rich and varied natural experiences, unparalleled scenery and exciting activities.
St. George, UT
Bryce Canyon in Utah stands alone among natural phenomena with its vibrant red rock structures and spires that are hundreds of feet tall. Bryce Canyon is famous for its unique geology, consisting of a series of horseshoe-shaped amphitheaters carved from the eastern edge of the Paunsaugunt Plateau in southern Utah. The erosional force of frost-wedging and the dissolving power of rainwater have shaped the colorful calcium-rich mudstone of the Claron Formation into bizarre shapes including slot canyons, windows, fins, and spires called "hoodoos." Tinted with colors too numerous and subtle to name, these whimsically arranged rocks create a wondrous landscape of mazes, offering some of the most exciting and memorable walks and hikes imaginable.
Albuquerque, NM
Situated in the Guadalupe Mountains of southeastern New Mexico, far away from city lights — or any lights, really — Carlsbad Caverns National Park is a great place to view the night sky in a whole new way.
George Parks Hwy.
Denali Park, AK
For overachievers who always need to be at the top, Denali National Park is a choice destination. Denali is six million acres of wild land, bisected by one ribbon of road. Travelers along it see the relatively low-elevation taiga forest give way to high alpine tundra and snowy mountains, culminating in North America's tallest peak, 20,310′ Denali. Wild animals large and small roam unfenced lands, living as they have for ages.
Everglades City, FL
As the largest subtropical wilderness and the third largest national park in the United States, Everglades National Park is in a league of its own. Everglades National Park is a 1.5-million-acre wetlands preserve on the southern tip of the U.S. state of Florida. Often compared to a grassy, slow-moving river, the Everglades is made up of coastal mangroves, sawgrass marshes and pine flatwoods that are home to hundreds of animal species. Among the Everglades' abundant wildlife are the endangered leatherback turtle, Florida panther and West Indian manatee.
Whitefish, MT
Glacier National Park was established in 1910, with 1 million acres of land and 25 "active" glaciers that are constantly on the move due to thawing and melting. With over 700 miles of trails, Glacier is a hiker's paradise for adventurous visitors seeking wilderness and solitude. Relive the days of old through historic chalets, lodges, and the famous Going-to-the-Sun Road. Explore Glacier National Park and discover what awaits you.
Great Smoky Mountains National Park
Nashville, TN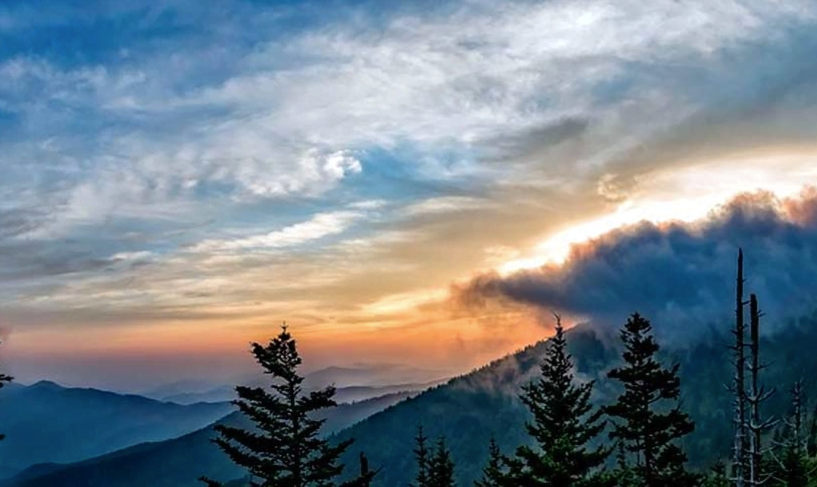 Bordering Tennessee and North Carolina and covering more than 800 square miles, Great Smoky Mountains National Park is the nation's most visited. Ridge upon ridge of forest straddles the border between North Carolina and Tennessee in Great Smoky Mountains National Park. World renowned for its diversity of plant and animal life, the beauty of its ancient mountains, and the quality of its remnants of Southern Appalachian mountain culture, this is America's most visited national park.
Hawaii Volcanoes National Park
Volcano, HI
For a primordial experience, head to Hawaii Volcanoes National Park on the Big Island, home of two active craters: Kilauea and Mauna Loa, the world's largest. Hawai'i Volcanoes National Park protects some of the most unique geological, biological, and cultural landscapes in the world. Extending from sea level to 13,677 feet, the park encompasses the summits of two of the world's most active volcanoes – Kīlauea and Mauna Loa.
Trail Ridge Rd.
Denver, CO
Hikers will rejoice over Colorado's Rocky Mountain National Park with more than 300 miles of trails and the opportunity to gain some real altitude: the tallest of the 60 peaks tops out at 14,259 feet. Rocky Mountain National Park's 415 square miles encompass and protect spectacular mountain environments. Enjoy Trail Ridge Road – which crests at over 12,000 feet including many overlooks to experience the subalpine and alpine worlds – along with over 300 miles of hiking trails, wildflowers, wildlife, starry nights, and fun times. In a world of superlatives, Rocky is on top!
Classic destinations always stand the test of time, and as the world's first national park, Yellowstone certainly qualifies. Visit Yellowstone to see grizzly and black bears, thousands of wild bison, packs of wolves, giant waterfalls and the largest concentration of active geysers on Earth.
The indelible images of Yosemite National Park made famous by the photographer Ansel Adams in the early 20th century still pale in comparison to the real thing.
Yosemite is not just a great valley, but a shrine to human foresight, the strength of granite, the power of glaciers, the persistence of life, and the tranquility of the High Sierra.
First protected in 1864, Yosemite National Park is best known for its waterfalls, but within it is nearly 1,200 square miles, you can find deep valleys, grand meadows, ancient giant sequoias, a vast wilderness area, and much more.