The Crockpot is great for families that are busy all day with impatient kiddos (and adults!) that are ready to eat as soon as they get home. On busy days, it is tempting to run and get take-out or throw a frozen pizza in the oven. With a little planning in the morning, you can set the Crockpot to have your meal ready as soon as tummies start rumbling. There is nothing better than walking into the house, filled with the delicious smells of your dinner, ready to devour.
BBQ Chicken
This easy recipe requires only two ingredients—your favorite BBQ sauce and chicken. Serve with whole wheat hamburger buns and fruits or veggies on the side for a healthy, kid-approved dinner.
From Gimme Some Oven
Breakfast Casserole
Everyone loves breakfast for dinner.This easy, no fuss recipe includes all the breakfast essentials: hash browns, eggs, milk, meat, and cheese. Don't forget to sneak in some vegetables too!
From Spend with Pennies
Veggie Lasagna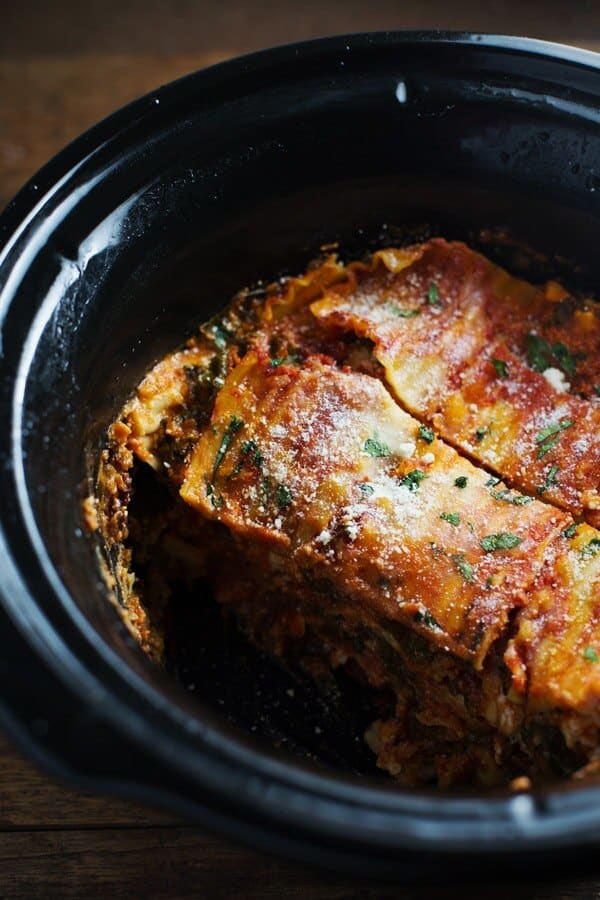 This lasagna recipe hides vegetables in a classic kid-favorite dish. It is vegetarian friendly, but there is plenty of protein from the mozzarella and ricotta cheese.
From: Pinch of Yum
Salsa Chicken
Make Mexican shredded chicken in the Crockpot for a build-your-own taco or burrito night. It only requires two ingredients—salsa and chicken.
From The Blond Cook
French Onion Pot Roast
The Crockpot makes pot roast tender and juicy. This recipe includes potatoes, carrots, and onions, so you get the whole meal in one pot.
From Slow Cooker Kitchen
Pulled Pork
It seems as if there is never enough time to slow cook a pork roast until it is tender enough to shed. The Crockpot fixes that problem! If you set up the pork in the morning to slow cook all day, it will be falling apart by dinner time.
From The Recipe Rebel
Chicken & Rice Casserole
Chicken & Rice Casserole: This simple recipe has all the basic parts of a meal covered: meat, carbs, and veggies. Kids love the creamy rice and are sure to gobble up the peas and carrots.
From Well Plated
Honey Garlic Porkchops
Let the Crockpot do the work for perfect, tender porkchops. The simple sauce is sweet and savory, for a flavor the whole family will love.
From Dinner at the Zoo
Greek Chicken Gyros
Make the chicken for Greek gyros in the Crockpot. Do not skip on the delicious Tzatziki sauce made with cucumbers, spices, and Greek yogurt.
From The Recipe Critic
Slow Cooker Turkey Breast
This is a very easy recipe for slow cooked turkey breast. Just brush with olive oil and spices for a classic main dish at any time of the year. Pair with vegetables, potatoes, or rolls. Leftover turkey goes great on sandwiches for lunch the next day.
From Plain Chicken