[brid autoplay="true" video="782002″ player="22750″ title="Chipotle%20Pork%20Chops%20with%20Watermelon%20Salad" duration="70″ description="The combination may sound different but it\'s smokey, savory, and sweet. Most importantly, it is a delicious meal worth cooking this summer. " uploaddate="2014-03-17″ thumbnailurl="//cdn.brid.tv/live/partners/15887/thumb/782002_t_1620973756.png" contentUrl="//cdn.brid.tv/live/partners/15887/sd/782002.mp4″]
Who would have thought a watermelon salad goes with pork chops? Perhaps it's the honey in the chipotle sauce that brings it together, we don't know…
What we do know is that if you like the combination of pork and apple, this Chipotle Pork and Watermelon Salad recipe should be on your list to cook this summer.
And the best thing about this recipe, besides its simplicity, is that it'll turn heads when you say it.
Check out the recipe video above to see just how simple it is to make. The ingredients and steps are below:
Ingredients
1 Lime (Zested and squeezed)
4 tbsps. of Honey
1 tbsp Chipotle Pepper Sauce
4 Pork Chops
Canola Oil (For seasoning and cooking)
1/4 cup of Watermelon (Cubed)
1/4 cup of Pineapple (Cubed)
1 Mandarin Orange (Halved segments)
1 Romaine Lettuce (Torn not shredded)
4 tbsps. of Raspberry Vinaigrette
1/4 cup of Feta Cheese
2-4 tbsps. of Sunflower Seeds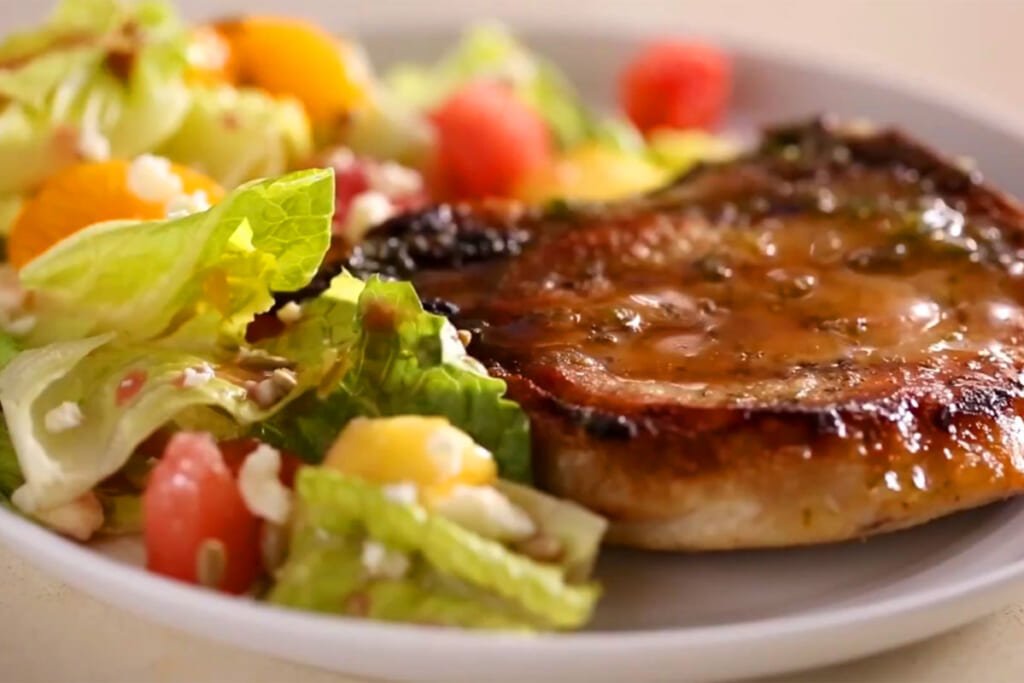 Related: Apple Cinnamon Toast – Delicious Recipes Worth Cooking
Cooking Steps
Zest the lime, then quarter and squeeze the juice into a bowl.
In the bowl add your honey, chipotle pepper sauce, and honey. Mix until combined.
Dry and season your pork chops with a drizzle of canola oil, salt, and black pepper.
Add your pork chops to a pan and brush with the mixed sauce.
Cook the pork chops over medium heat, turning after 10 minutes to add the mixed sauce to the other side.
Make sure your pork chops are cooked thoroughly. This may take 20-30 minutes.
Once cooked, put them to one side to rest.
In a clean bowl add your watermelon, pineapple, mandarin orange segments, and mix.
On your serving plates, portion out the romaine lettuce, fruit mix, raspberry vinaigrette.
Top the salad with crumbled feta cheese and sunflower seeds.
Add a pork chop to each plate and top with your sauce made in step 2.
Serve while the pork chops remain hot.
Please let us know if you make this Chipotle Pork and Watermelon Salad recipe on Facebook.