Your hair is your most noticeable feature, but for some reason, you noticed it hasn't been growing much since the summer. We've compiled a list of the best shampoo for hair growth in 2022 to help you find a product you love that actually works.
Without the natural vitamin D from the sun, it seems like your hair has remained the same length for months now. All you want is long, healthy, voluptuous hair, but you just can't seem to find the right product. You want an answer — like yesterday!
Check out our list of best shampoos for hair growth below!
The Best Densifying Shampoo for Hair Growth
Viviscal Gorgeous Growth Shampoo
An affordable and densifying shampoo, Viviscal Gorgeous Growth Shampoo is a powerful blend of keratin, biotin, and zinc. This shampoo will gently cleanse your hair to allow for healthier, fuller, and thicker hair growth. With 25 years of hair growth research, Viviscal provides drug-free products that are clinically and scientifically proven to lengthen and thicken hair. This shampoo works best with frizzy and dry hair, yet it still works well with any other hair type, whether natural or colored. It can be used daily, and the botanical fragrance will linger throughout the day, leaving a fresh scent to your thicker, fuller locks.
The Best Anti-Breakage Shampoo for Hair Growth
Marc Anthony Grow Long Shampoo
Marc Anthony Grow Long Shampoo is a biotin enriched, extreme strength shampoo for all hair types, particularly dry, curly, and frizzy hair. This fast-acting and sulfate-free growth shampoo is infused with ginseng and caffeine to quickly replenish your hair from dry, brittle, and unmanageable to long, shiny, strong, and healthy.
Pro tip: This shampoo pairs best with Marc Anthony Grow Long Conditioner and Leave-In Conditioner.
The Best Clarifying Shampoo for Hair Growth
WOW Apple Cider Vinegar Shampoo
This product's natural formula of pure Himalayan spring water infused with apple cider vinegar works to detox and rebuild damaged hair. It's hypoallergenic, cruelty-free, sulfate- and paraben-free, and only needs to be used twice per week. This shampoo is safe and effective for men, women, and children with all hair types, and it'll help naturally balance Ph levels.
The Best Anti-Hair Loss Shampoo for Hair Growth
GoodMood Biotin Shampoo and Conditioner
GoodMood Biotin Shampoo and Conditioner contains enriching, hair-strengthening ingredients like biotin, castor oil, vitamin E, keratin, avocado oil, and shea butter — just to name a few. This powerful formula works well with any hair type to promote growth by restoring dry, damaged hair.
It'll give your hair and scalp the nutrients you need to make it grow quicker and thicker, and it'll even prevent future hair loss.
The Best Cleansing Shampoo for Hair Growth
Nioxin Cleanser Shampoo
This cleansing shampoo is made with peppermint oil to treat both natural and dyed hair with progressed thinning concerns. In just 30 days, 72% of customers using Nioxin Cleansing Shampoo claim to have acquired thicker hair.
Using a one-minute lather method is the best way to see the benefits of this product — a cleansed scalp that promotes fuller hair.
Pro tip: For the best results, use this shampoo in combination with the rest of the Nioxin hair thickening regimen products, including the conditioner and spray.
The Best Organic Shampoo for Hair Growth
Dr. Hempster Anti-Hair Loss Shampoo
This organic, anti-hair loss shampoo is Amazon's choice for a shampoo that repairs thinning hair with nourishing ingredients. Dr. Hempster's therapy shampoo keeps its formula vegan-friendly by combining biotin, argan oil, hemp oil, saw palmetto, and wheat protein.
These five natural ingredients can transform your hair by stimulating new growth at the roots, as well as cleansing, thickening, and boosting elasticity to your hair. This shampoo will leave your hair looking more voluminous.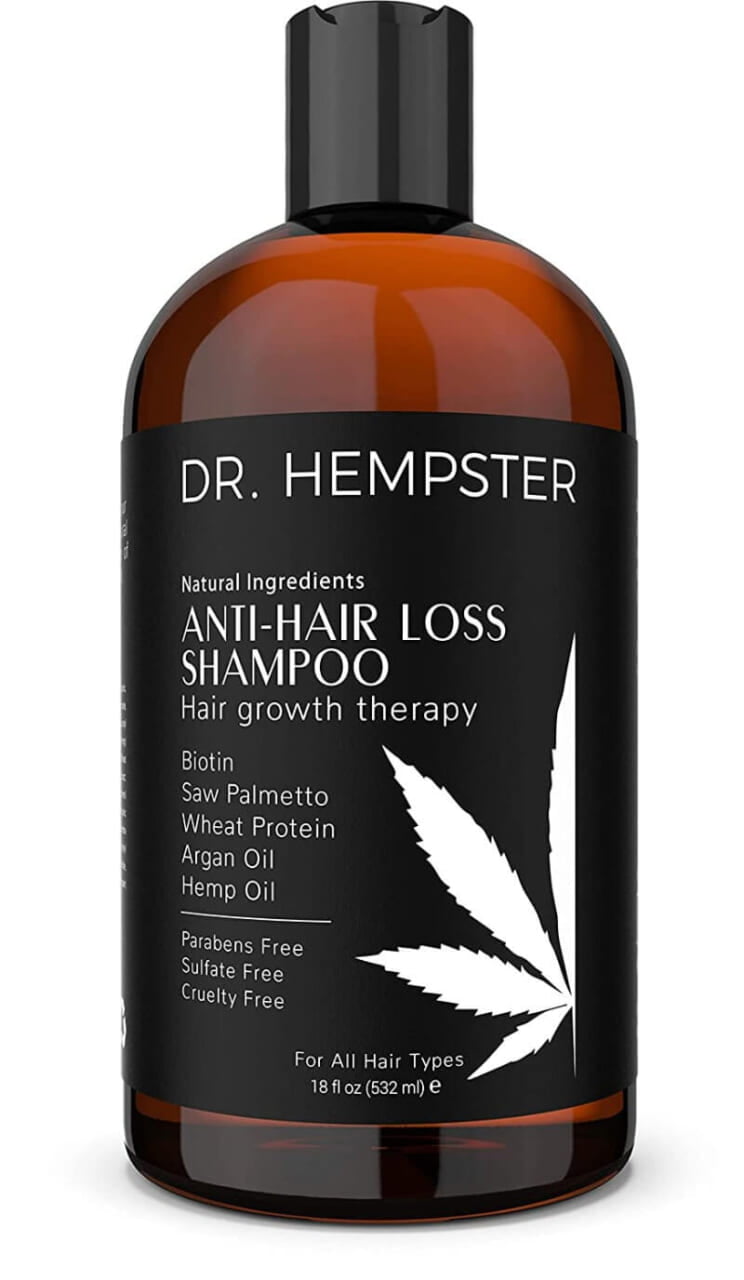 The Best Anti-Thinning Shampoo for Hair Growth
Pura D'or Original Gold Label Anti-Thinning Shampoo
Pura D'or Original Gold Label is formulated with natural ingredients as an anti-thinning shampoo. Made with a 17+ DHT herbal blend consisting of biotin, argan oil, nettle leaf extract, and more, Pura D'or is also vegan and cruelty-free.
These natural ingredients work together to strengthen and protect your hair and scalp. By creating a healthy hair and scalp environment, this plant-based formula is clinically proven to prevent hair damage from external factors, providing you with thicker hair growth in just eight weeks of use.
The Best Overall Shampoo for Hair Growth
Bellisso Biotin Shampoo and Conditioner Set
Bellisso's Biotin Shampoo and Conditioner set is the perfect duo to promote hair growth. This herbal-based "magic" uses vitamin B7 as its base for a formula full of zinc collagen peptides, hydrolyzed keratin, spirulina extract, and silk protein. This combo will give your hair the luscious look you desire. Plus, it'll even block the DHT hormone that causes hair loss.
This shampoo and conditioner is made for both men and women and works well with any hair type, even color-treated hair. Bellisso's acts as an anti-hair loss product that will help your hair look thicker, feel fuller, and yes, grow longer!
The Best Vegan Shampoo for Hair Growth
DermaChange Thick & Full Shampoo and Conditioner
If you're looking for a vegan hair growth solution that uses natural ingredients, DermaChange Thick & Full Shampoo and Conditioner is your answer! This organic formula nourishes your hair and treats dry scalp and dandruff with its combination of biotin, aloe vera, coconut oil, keratin proteins, fatty acids, vitamin B5, and vitamin E.
By using DermaChange, you'll get a balanced pH, as well as repaired hair fibers. You'll even notice greater moisture, reduced split ends, and a healthier foundation for thicker hair. No matter what gender you identify as or what hair type you have, DermaChange will give you what you're looking for.
The Best Expert Shampoo for Hair Growth
Shapiro MD Patent Hair Kit
Shapiro MD Patent Hair Kit includes a 30-day supply of shampoo, conditioner, and leave-in daily foam. This hair kit is sulfate- and paraben-free, and will improve the health of your hair while making it feel more voluminous. With triple-action natural DHT blocking ingredients, Shapiro MD works to proactively prevent hair loss and thinning.
The is the only revolutionary hair loss kit of its kind that uses all-natural ingredients to stop hair loss in its tracks, develop thicker hair, and combat hormonal hair thinners. Not to mention, this kit will work well with any type of hair loss, as long as you use it daily.
Why trust us?
When choosing the best products for your beauty needs, we conduct extensive research to determine the highest quality products we can find. We have processes set in place for quality control of ingredients, fact-checking and style guidelines, journalistic integrity, and implement several rounds of editing and review.
"We often receive complimentary products to review at Family Proof. Each product we feature has been independently selected and reviewed by our editorial team."