Instagram
If you're thirty-plus and in search of a new hairstyle, you've come to the right place. Your hairstyle has the ability to express your signature style and what makes you unique — not to mention, it can make your busy lifestyle a little more effortless.
As Amber Makupson, the founder of Meraki Organics, adds, some traditions even ascribe our strands to spiritual properties, like sensing surrounding energy and vibes. And who couldn't use some more positive vibes in their thirties?
There's also the fact that the hair changes as we age, with celebrity hairstylist Richard Marin pointing out that it can become less voluminous, shiny, and bouncy over time, making different hairstyles and products more appealing to women who are 30-plus.
All of these factors make certain hairstyles better than others to fit the needs and goals of 30-year-old women. Because the last thing we need is a hairstyle that makes us look more aged and tired than we already are. (Yes, Gen Z, we heard you loud and clear.)
Celebrity hairstylist Jessica Elbaum notices that many of her clients seek new haircuts in their thirties, as opposed to their teens and twenties. "I think women crave a more sophisticated look after turning thirty," she says. "I also see a lot of women wanting a shorter haircut and something more manageable for busier schedules." Sarah Klein, a hairstylist at Nine Zero One, adds, "When turning thirty, women want to feel fresh and empowered, and they seek something classy yet still fun for their hair."
Ready to refresh your look? Below, top hairstylists share the best hairstyles for women in their 30s, plus styling tips and tricks to pull off each look with ease.
The Best Hairstyles for 30 Year Old Women
The Sassoon Bob
"I will always be a fan of the sassoon bob," says Elbaum. "It's chic, timeless, and looks great on everyone." Not your average above-shoulder bob, the sassoon variety features a blunt cut, no layers, and an angled A-line edge that looks ultra-polished. Elbaum also notes that it looks professional and put-together, whether you're going to the office, a PTA meeting or for drinks with friends, because it always lays perfectly.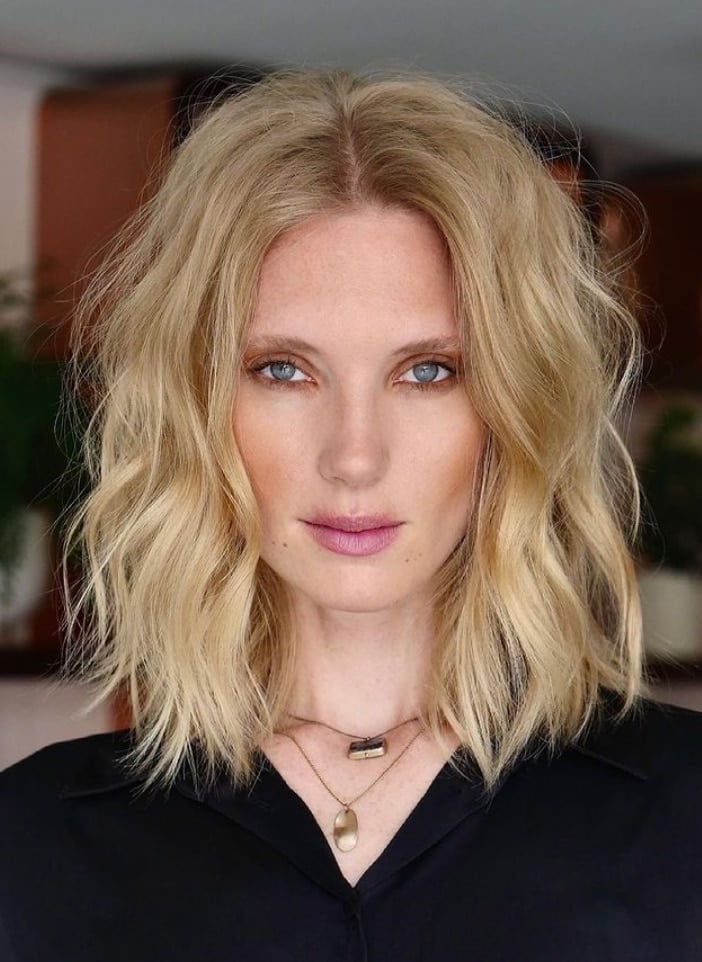 A Lob
"I also love the longer lob for anyone who still wants enough length to wear a ponytail or updo," Elbaum says of the shoulder-grazing iteration of the bob. That's because the cut works with any face shape and is extremely versatile, as it can be styled a number of ways — from pin-straight to wavy with a tousled texture. Plus, styling the shorter length is faster and more manageable than longer styles. Ask for a cut that's collarbone-length or slightly longer, and be sure to add some layers to bring body and movement to the style.
Long Layers
"Long layers are always a good choice and look flattering on almost everyone," Klein says, adding that longer styles that are all one length can make the hair appear weighed down and lifeless. So, if you're looking to keep your length, asking for layers that begin below the jawline and taper down will soften the style and add volume and bounce back to the hair. Layered hairstyles are also great for busy lifestyles since they naturally have shape even when you want to skip over styling.
Curtain Bangs
"If you're wanting to change things up, consider curtain bangs," Klein says. While fringe can certainly feel like a big commitment, this trendy take has a host of benefits. For starters, anyone can pull off curtain bangs, regardless of face shape or hair texture, and they're lower maintenance than their blunt counterparts. Much like the names suggest, they frame the face like an elegant curtain does a window. Ask your stylist for a centered-parted style with swoopy bangs that taper off below the outer corner of the eyes. This will draw attention to your gorgeous gaze and give the appearance of higher cheekbones.
A Shoulder-Length Shag
"I'm a big fan of convertible hairstyles like the shaggy, shoulder-length cut because your styling options are unlimited," says Marin. With choppy ends and lots of layers throughout, the modern shag has a lot of texture and oomph. You can air-dry the hair for more of a tousled, relaxed look, he says, or style it with soft, fluffy waves for a more polished look. It also works well on naturally curly textures, adding definition and shape.
Stacked Curls
"We all get so caught up in trends, but I think working with what you have is the best look," says celebrity hairstylist Tarryn Feldman. "If your hair is curly, I recommend a style that complements your texture and brings out your curls." Stacked curls create a weightless shape and controlled volume that really shows off your curl pattern. The hair is cut to create graduated layers with some of the curls cut in different directions, and when angled correctly, this style works on short and long lengths.
Short, Face-Framing Layers
"Short, face-framing layers work for most hair types, and they are such an easy way to add movement and keep your haircut interesting," says celebrity hairstylist Kat Thompson. For a modern take on the style, ask for layers that shape the face instead of flip into it. This cut is especially great for people with thick hair who want a manageable shorter style, though it also works well on thinner hair types since it adds loads of volume.
Of course, this is just a small selection of flattering hairstyles for 30 year old women. As Feldman notes, it's always best to go with a cut that complements your hair type and texture, but most importantly, makes you feel confident. Bring inspo photos to your salon appointment and be sure to talk to your stylist about your lifestyle and the level of maintenance and styling you are willing to endure.