Is there any better way to celebrate the arrival of warm weather than by grilling in the great outdoors? Whether you want to tap into your inner caveman and cook up Flintstone-sized ribs or you want to keep it lean with fish and veggies, GAYOT has you covered with the Best Barbecue Grills.
These charcoal, gas and propane grills promise all the bells and whistles needed for an epic BBQ cookout, plus they come at different price points for every budget.
This regal grill has three stainless steel Dual-Tube burners.
If there were a grilling monarch, the Broil King Signet 90 would mostly likely be among his most prized crown jewels. This liquid propane grill combines an incredible amount of unique features in a unit that's fairly priced. It has a stainless steel burner for searing, a stainless steel side burner and a rear rotisserie burner. It also features stainless steel "Flav-R-Waves" to help capture and instantly vaporize juices, aluminum exterior, built-in temperature gauge and "Sure-Lite" electronic ignition system.
It's all pretty impressive, but the crème de la crème has to be the multi-position porcelain-coated cast iron cooking grids. Cast iron cookware has been lauded by chefs for hundreds of years because it has the ability to withstand and maintain very high cooking temperatures, making it perfect for quickly searing meats.
This grill has a digital temperature control system that allows for easy cooking.
When it comes to cooking legitimate barbecue with ease, the Camp Chef Pellet Grill is your answer. Equipped with a digital temperature system, it is now easier than ever to control the process of low and slow smoking without sacrificing taste. This Camp Chef grill also boasts a stainless steel probe that measures internal food temperature as well as a built-in sensor gauge that reads cooking temperature. As for the cleanup process, Camp Chef makes it easy with their patented Ash Can Cleanout System that simplifies cleaning up ash and the Grease Management System that manages grease drippings when cooking.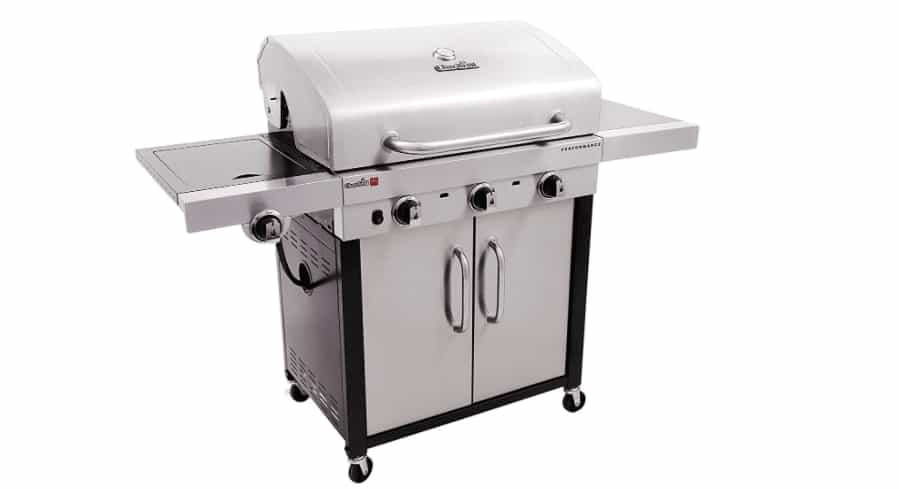 Take grilling beyond the everyday with this infrared cooking system.
Behold the future of grilling. Okay, that might be a stretch, but the Char-Broil Performance Infrared Gas Grill uses a type of new cooking system (known as the "Infrared" system) that is definitely changing the grilling game.
Just above each burner is a specialized "Infrared" surface; when the grill is turned on, these surfaces absorb the heat and radiate it evenly throughout the entire grilling area. This technology not only eliminates those bothersome hot and cold grilling spots, but it also allows the burners to retain a broader range of heat — from intense and searing to low and slow. In addition, because of the nature of the surfaces, this grill requires only three burners, saving you both space and gas. As if that weren't enough, the grill also features a stainless steel exterior, folding side shelves and a "Surefire" electronic ignition system.
This versatile grill works perfectly as a gas grill.
Originally, Char-Griller made charcoal grills and smokers, but recently the company started manufacturing propane grills as well. The distinctive shape of the Grillin' Pro alludes to its original design as a charcoal smoker, but it happens to work perfectly as a gas grill. It features a heavy-steel construction, wonderful porcelain-coated cast iron grates, dual ventilation stacks for heating, warming rack, side burner, stainless steel thermometer and a large side shelf for storing utensils. The Char-Griller 3001 Grillin' Pro is on par with other similar-sized backyard grills on this list, but it sells for a fraction of their price, which makes it an excellent buy.
It's no problem being on the road (again) with this light, compact and mobile grill.
If you're on the road, you may need a grill that's ultra compact, as well as light and mobile. Look no further than the Coleman Road Trip Grill LXE 175. This nifty little model has a large grilling space, as well as two folding side tables and a matchless ignition system. However, if you need to move, the grill folds down to a fraction of its size and can be stored easily in a backseat or trunk. It also has a convenient pull handle and durable all-weather wheels.
The Coleman LXE operates off of a 16.4 oz propane tank, which means the grill can last for up to 1.1 hours with both burners on full or 4.5 hours with both burners on low. If you're going on a road trip or camping out and need an ultra-portable grill, this one is our recommendation.
This grill combines power with a lightweight, portable profile.
When you want performance paired with portability, we recommend this easy-to-handle Cuisinart roll-away gas grill. Its electric ignition lights up quickly, rapidly attaining temperatures of up to 500 degrees. The built-in gauge ensures accurate temps, while the enamel-coated cast iron surface maintains heat evenly. Thanks to the heat-resistant lid handle, opening and closing the grill is a safe operation. Two strong side tables easily fold up. Best of all, it's transportable, with large wheels that make traversing sand, grass or dirt a breeze.
This BBQ grill combines a powerful grilling system with sleek styling.
If you're seeking a powerful grilling system in a sleek, well-designed package, you may have met your match. This venerable Dyna-Glo grill machine's up-to-date features include multiple burners, an uber-quick push-button electronic ignition, infinite setting control valves and a built-in stainless steel thermometer. The cabinets, burners, cooking grates and heat tents are constructed of heavy-duty stainless steel.
If you're prepping meals for a crowd, the copious cooking space allows you to sizzle up to 28 burgers at once. It's a smart buy for the avid griller looking for a well-priced, high-performance barbecue.
This versatile George Foreman grill can be used in your kitchen or on your patio.
With the George Foreman GGR50B Indoor/Outdoor Grill, there's no need for a sprawling backyard. Made to fit spaces with limited outdoor square footage and restriction from open fires, this electric grill can be used on the patio as well as in the kitchen. It boasts an adjustable electric heat range that can be plugged in and preheated in ten minutes. The nonstick grill surface and the sloping grate with a fat and grease draining system allows for fairly cleaning. In addition, the serving plate is removable and safe for the dishwasher.
The grill can be placed on its pedestal (approx. 2.5 feet high) or directly on a tabletop. The high-domed, vented lid creates a circular flow of hot air that allows for evenly cooked meat. With this George Foreman, you'll forget why you ever dealt with the hassle of a charcoal grill.
For smoking ribs, brisket and other barbecue staples, it doesn't get much better than this.
Technically a smoker, this smart and versatile machine from REC TEC can do it all — smoke, grill, sear and even bake. Using compressed, even-burning wood pellets and a precise digital controller, the REC TEC Wood Pellet Grill maintains accurate temperatures from 200 to 500 degrees Fahrenheit in 5 degree increments, making it great for everything from slow-cooked pulled pork, to steaks, to pizza and other items you would normally throw in the oven.
The REC TEC especially excels at smoking ribs, brisket and other barbecue staples, with the wood pellets imparting just the right amount of smoky goodness at low temperatures. While similar pellet grills can run you as much as $5,000, the REC TEC is modestly priced at just under $1,000, and comes backed with a six-year limited warranty.
A stainless steel exterior, authentic smoker box and burner are just some of the features of this BBQ grill.
First established in 1952, Weber has grown to become one of the top manufacturers and exporters of barbecue grills throughout the world. The Summit S-670 is Weber's grilling pièce de résistance for a reason — it's top of the line.
It features a flawless stainless steel exterior, authentic smoker box and burner, rotisserie system with an infrared burner and LED fuel scale, high-powered sear station and "flavorized" bars to catch juices and create smoke (to lock in flavors) while preventing bothersome flare-ups. It even has lighted control knobs for those stealthy night grilling sessions. The Weber Summit S-670 is the most expensive grill on our list, but this efficient, sleek and impressive machine deserves it.
And speaking of epic entertaining, you'll also want to check out these amazing meat grilling tips, as well these Top 10 BBQ Tools for a summer cookout to remember.