From Caribbean beaches to the New Zealand wilds, each choice on GAYOT's Best Family Resorts in the World provides a one-of-a-kind experience, as well as unique activities for children, like underwater photography excursions and flying trapeze lessons. As for moms and dads, supervised kiddie and teen programs mean there's no need to sacrifice adult time. While young ones make kites, take tennis lessons or learn a new language, adults can slip away for a spa treatment, round of golf or leisurely candlelit meal.
Beaches Turks & Caicos
The Caribbean may be known for romance, but when it comes to family travel, it also boasts some of the best family resorts in the world. At the top of our list is this Beaches outpost in the Turks & Caicos, featuring a 12-mile beach and the 45,000-square-foot Pirates Island Waterpark with a SurfStream surf simulator. Among the many pastimes here are magic shows and face painting for toddlers, snorkeling and beach volleyball for pre-teens, and boat cruises and tennis clinics for teenagers. Rounding out the offerings are a comprehensive Sesame Street-themed program and professional nanny care with individual coordinators so that children with special needs can participate in group activities.
Cavallino Bianco
This all-inclusive hotel is a self-declared family-oriented destination — even the spa includes kid-friendly treatments. A fairy tale village locale in the mountains sets the scene for an escape that's pure pleasure for all ages. At the Wellness & Spa Center, healthy indulgences range from a vitamin buffet to a baby pool to a family lagoon with a triple-lane slide. The big draw for kiddies, though, is Lino World, an indoor-outdoor entertainment center with musical games, a ball pond and even a nap room. A trained staff and customized safety measures for each child mean parents can rest at ease as they sneak away to enjoy time to themselves while relaxing at this family resort.
Club Med Ixtapa Pacific
This Mexican resort had us the minute we heard about its flying trapeze and circus lessons … tightrope walking, anyone? While the Club Med franchise was once associated with the single life, these days its focus is families. Among the all-inclusive offerings here are four kids' clubs accommodating children from 4 months to 17 years old. When it comes to all-ages dining, there's a Baby Corner in the main restaurant for folks with infants, and Sirena serves fun, balanced meals for 2 to 10 year olds. For children who want to experiment in the kitchen, the resort also has a Petit Chef program. Little ones can take a class in golf or tennis while moms and dads enjoy spa treatments or sip cocktails in a variety of lounges.
Grand Wailea, A Waldorf Astoria Resort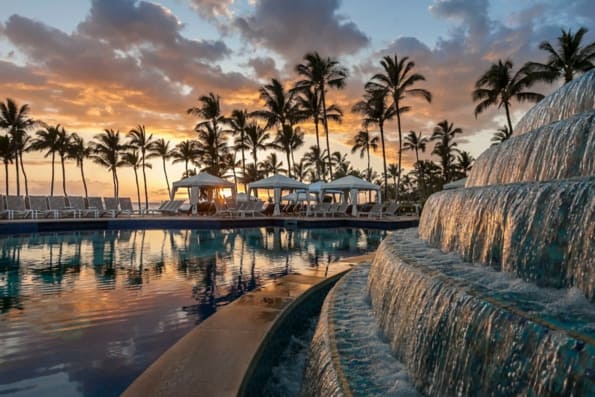 At this elegant island resort, parents and kids can splash the days away at the Wailea Canyon Activity Pool, a six-level water wonderland of nine interconnected, free-form pools with a Tarzan rope swing, sand beach, waterfalls, caves, special area for infants and swim-up bar for adults. When mom and dad want to slip away for a spa treatment or round of golf on one of the nearby championship courses, they can feel confident leaving their offspring at the 20,000-square-foot The Rock, home to three kids' clubs: Camp Grande, Ohana Hale and The Spot. Comprehensive, supervised programs feature activities from dawn 'til after dusk, including hula classes, lei-making, nature walks and pirate treasure hunts.
InterContinental Bali Resort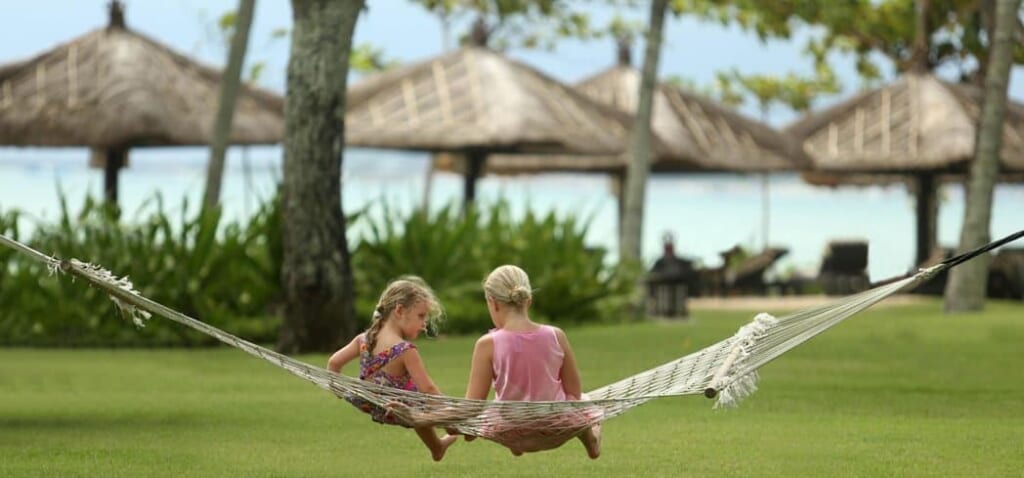 One of the world's most idyllic island destinations, Bali is perfect for a family vacation so it's no surprise to find the InterContinental on our list of the best family resorts. Among its many resorts, the InterContinental Bali stands out for its eco-themed Planet Trekkers children's center. This dedicated program (complimentary for all Club InterContinental guests) includes sections for children ages 4 to 7 and 8 to 12. Run by all-female supervisors and lifeguards trained in child care and first aid, the center includes a playground, outdoor pool and activities such as recycled art projects, language lessons, cycling and yoga. Professional nannies for children under 4 years old and extended evening hours at the kids' center (healthy dinner included) mean parents can enjoy spa treatments or a quiet escape at one of the enticing house restaurants. For family meals together, our top pick is Taman Gita Terrace, with its twice-weekly Balinese themed buffets, complete with performers from surrounding villages.
Matakauri Lodge
"Lord of the Rings" film location tours. Bungee jumping. Sheep shearing demonstrations. This is not one of your typical family resorts. At Matakauri Lodge, the forested, lakefront setting provides a serene contrast to activities for hardcore adrenaline junkies. Guests can skydive or take a forest canopy eco-tour, then return to the lodge for a spa treatment or wine tasting. While the kids won't partake in the vino, they can participate in almost everything else, as well as a slate of specialized activities such as Funyak Safaris (a combination of jet boating and paddling inflatable canoes on the Dart River) and excursions to Arrowtown (a historic gold mining town). Accommodations include a handful of designer guest rooms and lodges, with the Owner's Cottage being the top choice for families. Just 10 minutes from Queenstown, the resort has an infinity pool, and dining focuses on modern New Zealand cuisine (breakfast and dinner are included in the rates). Read More
A holiday oasis within an oasis, this hotel is part of the Pine Cliffs Resort community. The sprawling property features a full-service wellness center, a tennis academy, multiple swimming pools, a stunning 9-hole golf course, a golf academy and one of the top hotel kids' clubs in Europe. The club is divided into two sections. For ages 6 months to 8 years old, Porto Pirata is heaven on earth, with two wooden pirate ships serving as the focal point for the 75,000-square-foot children's village overlooking the Atlantic Ocean. Older kids (ages 8 to 13) can participate in the Junior Club, where activities range from crossbow shooting and soccer to table tennis and mini-golf. Read More
When it comes to family resorts this 144-acre resort provides entertainment for all ages. Parents will appreciate the Greg Norman-designed golf course, The Courts tennis center, a La Prairie Spa outpost and fine dining, including Blue by Eric Ripert. But the big draw for folks traveling with wee ones is Jean-Michel Cousteau's Ambassadors of the Environment program. Forget about same ol', same ol' activities like finger-painting and scavenger hunts. Here, kids can discover endangered Cayman blue iguanas in the Queen Elizabeth II Botanic Park or embark on an underwater photography excursion. Programs include Sea Floor Submarine Adventure, Stingray Detectives and Shipwreck Exploration Snorkel. Children use the islands as a living classroom to explore nature and learn how to live a more environmentally responsible life. Read More
At this resort for all seasons, activities include spa treatments, horseback riding, archery tag, paddle boarding, white water rafting, ice fishing, tobogganing and skiing. Most pastimes are geared for all ages, but the property also features special golf and tennis clinics for ages 10 to 17, and Camp in the Clouds (4 to 10 years old) with age-appropriate nature hikes, rock climbing, horse education and more. When you're traveling with kids in tow, we recommend choosing one of the charming cottages with gas fireplaces and spacious porches for a relaxing family stay. Read More
Although best known as a ski destination, Whistler is also a great place to take the family for a warm weather getaway. Kids will love paddling a canoe to an authentic ghost town or joining a professional researcher on a 4×4 drive in search of black bears. On-site Avello Spa and nearby Jack Nicklaus- and Arnold Palmer-designed courses appeal to parents, but there are plenty of activities for all ages, including fishing, hiking and horseback riding. The hotel offers the wintertime Whistler Kids at the Westin (18 months to 4 years) and two off-site programs, the seasonal, summer Teddy Bear Daycare (30 months to 5 years) and the Summer Adventure Camp (5 to 10 years). Also available is the SPG Kids Pass, an all-inclusive dining program with children in mind. Read More