Showers are a sacred time. For some (looking at you, parents) it may be the one chance you have all day to get a little peace and quiet. It's a chance to zone out, release stress and tension, and, of course, get squeaky clean. Whether you prefer to listen to motivational podcasts or host your own personal karaoke party, a waterproof shower speaker is an essential part of a rejuvenating shower experience.
Obviously, being waterproof or having a water-resistant covering is the most essential element of a good Bluetooth shower radio, but there are other factors to consider as well. Ideally, the audio will have strong bass, so that you can hear your music loud and clear even when rinsing the shampoo out of your hair. It's also convenient if your speaker has suction cups or a handle so that you can easily attach it to your shower.
On a budget? No problem. While there are plenty of luxury options, you don't have to break the bank to get a high-quality Bluetooth shower speaker either. Keep reading to discover the best Bluetooth shower speakers to get the most out of your pamper session.
The Best Bluetooth Shower Speakers
JBL Clip 4 Portable Bluetooth Waterproof Speaker ($70; target.com)
This slim, portable speaker can not only hang in your shower but can clip to almost anything, so you can easily take it on the go. Plus, it comes in a variety of vibrant colors.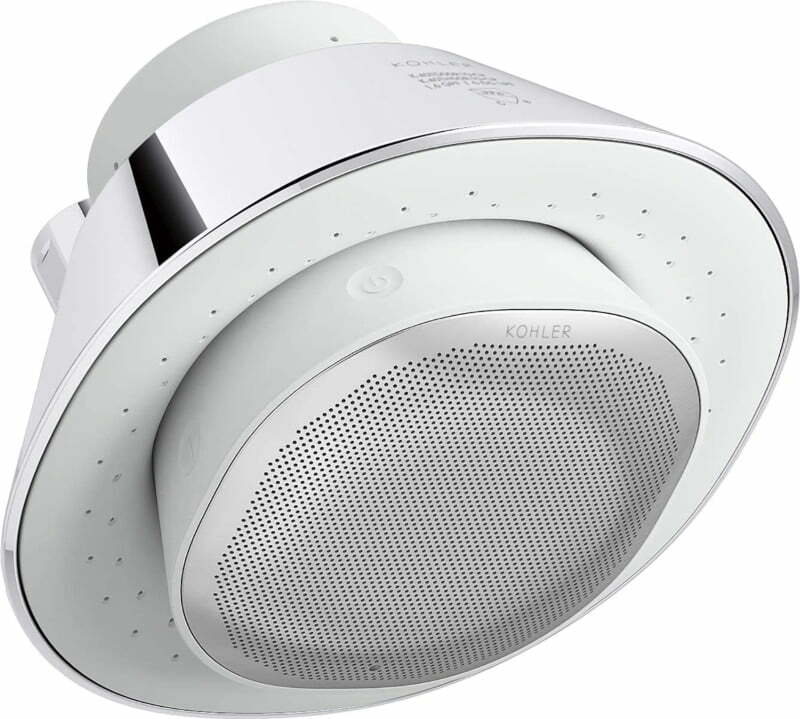 KOHLER Moxie Bluetooth Speaker Showerhead ($90; amazon.com)
If you're looking to save space, this is the speaker for you. It magnetically docks right into the showerhead, turning your shower listening into an immersive experience.
SoundBot SB510 HD Water Resistant Bluetooth 3.0 Shower Speaker ($15; amazon.com)
One of the most popular Bluetooth shower speakers on Amazon, this affordable product from SoundBot easily suctions to any part of your shower and boats six hours of play time.
Bang & Olufsen Beosound A1 Grey Mist Speaker ($249; cb2.com
For those who appreciate the finer things in life, this luxury waterproof speaker from Bang & Olufsen is a must. Take it anywhere from the shower to the beach, and enjoy Integrated Alexa Voice Assistant as well as a microphone for hands-free calls.
Sonitrek Go Smart Bluetooth 5 Portable Wireless Waterproof Speaker ($60; mifo.com)
Exploring the outdoors? This speaker will be a great companion. It features over 10 hours of play time and the most advanced Bluetooth 5 chipset available today. Perhaps the best part? It charges up in under 30 minutes.
iFox iF012 Bluetooth Shower Speaker ($33; amazon.com)
The design of this speaker allows for clear, robust audio that comes in handy when listening in the shower or other noisy areas. Plus, it's super compact for easy placement.
Silicone Bluetooth Shower Speaker with USB Charger ($15; amazon.com)
You can't do much better than a $15 Bluetooth shower speaker. However, you won't sacrifice sound quality; customers say that it's clear and loud with plenty of bass.
BOSE SoundLink Micro Bluetooth Speaker ($99; amazon.com)
Bose is known for its high-quality audio products, and this mini Bluetooth speaker is no exception. Plus, the slim, portable design makes it easy to take anywhere.
Harman Kardon Neo Portable Bluetooth Speaker with Strap ($45; walmart.com)
Crisp sound, 10 hours of play time, and a convenient strap make this pick from Harmon Kardon a no-brainer.
INSMY C12 IPX7 Waterproof Shower Bluetooth Speaker ($21; amazon.com)
Another popular Amazon pick, this speaker claims to be dustproof, waterproof, shockproof, rainproof, and snowproof — so it's sure to last you a long time.