Have you ever considered a staycation? Seriously, there's no nicer location to live and take a trip-in than the Bay Area.
So next time your mind's frantically looking for fun things to do with your family. Relax and pick one of these 18 family-friendly spots.
1. The Claremont Club and Spa, Berkeley
East Bay's iconic Claremont Hotel offers you fantastic views, lots of history, and a full array of fun activities for the family. This luxurious hotel features 22 acres of landscaped gardens and even has a rejuvenating spa for adults to enjoy.
CHECK OUT: 11 Amazing family-friendly staycation ideas in Los Angeles.
2. Cavallo Point Lodge, Sausalito
The famous Cavallo Point Lodge in Sausalito is the perfect place for a family weekend. You don't even have to cross a bridge because it's right next door to the family's favorite Bay Area Discovery Museum.
3. Safari West, Santa Rosa
Being at the magnificent Safari West feels like visiting an entirely different continent – you may feel like you're in Africa. You can go to one of their luxury tent cabins, and then you can take a tour of this nature preserve to see rhinos, giraffes, zebras, and more.
4. The Palace Hotel, San Francisco
San Francisco's beautiful Palace Hotel is a historic landmark in the heart of the city. You can do plenty of family activities at this hotel. It's very close to attractions like the Children's Creativity Museum, SFMOMA, Union Square, and the cable cars, which makes it perfect for a city staycation.
5. Birds Scavenger Hunt – At Coyote Hills Regional Park
There are many different parks in the Bay Area where you can see various birds species, and some of the best ones are Coyote Hills Regional Park in Fremont, and Baylands Nature Preserve in Palo Alto.
6. Dream Inn (Santa Cruz)
The Dream Inn is Santa Cruz's only beachfront hotel. It's located on the northern shores of Monterey Bay. This hotel is located just 75 miles from San Francisco.
This resort offers activities for your entire family. Here you can enjoy the beauty of the beach and catch some great waves. You can also take your kids for a short walk or drive to see beautiful national state parks such as Nisense Marks and Big Basin.
7. Mar Vista Mendocino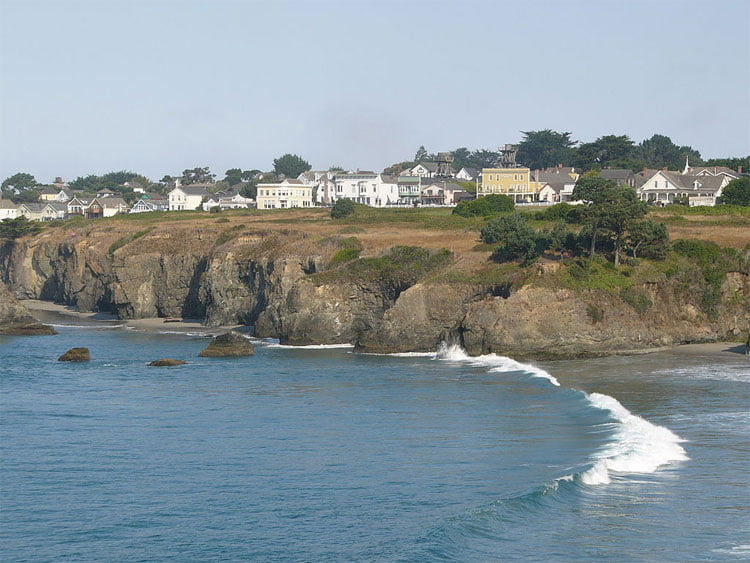 The Mar Vista Cottages and Mendocino Coast are located on South Highway One in Gualala. This cottage is the perfect home away from home, and it offers a chance to relax and unplug in a quaint staycation environment.
Your kids will love building sandcastles at the beach and visiting the goats that are on site. Also, there's an organic orchard and garden with a variety of herbs and vegetables.
8. Argonaut Hotel
This hotel is located in Fisherman's Wharf, San Francisco. The Argonaut hotel offers you free bike rentals if you want to go on a family ride.
You also have access to events like a scavenger hunt and treasure chests filled with toys.
9. Ritz Carlton Half Moon Bay
Ritz Carlton Half Moon Bay is located just twenty miles from the San Francisco International Airport. This resort offers you a list of amenities, including fire pits and a heated swimming pool.
You don't have to go far to find things for your kids because this resort offers a Ritz Kids Program, which includes different activities like art and crafts, swimming, and board games.
10. Hotel Nikko
Hotel Nikko is situated in the heart of San Francisco with effortless access to several area attractions, including Union Square and Fisherman's Wharf.
You can ride the cable cars and check out the sea lions, or you can go to the Golden Gate Bridge with your family. This hotel has a 15-meter glass-enclosed swimming pool, which is perfect for some family time.
CHECK OUT: Keep your family safe with these 13 Uber and Lyft tips.
11. Gilroy Gardens
It's a hidden gem, located in Gilroy's tiny town, and is a perfect place for the kids. The beautifully landscaped grounds will give you and your family the staycation experience of a lifetime.
12. Roaring Camp Railroads
If you have kids that love trains, then a day trip to Roaring Camp Railroads in Felton will be an incredible thrill. Roaring Camp Railroads is a 3ft narrow-gauge tourist railroad in California.
13. Calistoga
You can have a great experience with older-family members at the Napa Valley Wine Country at Calistoga Spa Hot Springs. It's located in charming downtown Calistoga, the heart of Upper Napa Valley.
14. Tidepooling in Fitsgeralnd Marine Reserve
Tidepooling is an excellent activity on a hot summer day in California. You can see so many cool creatures in those sparkling pools, and your kids will love doing that.
There are many different tide-pooling areas in the San Francisco Bay Area, like Fitzgerald Marine Reserve and Santa Cruz. Each are perfect for a staycation visit.
15. Pinnacles National Park
It's one of America's newest national parks located in the city of San Francisco. This park is divided by the East and West Division rock formations, connected only through foot trails.
The west side has high walls while the east side has shade and water. You will have quality time at Pinnacles National Park.
16. Muir Woods
Muir Woods National Monument is a United States National Monument and managed by the National Park Service named after nationalist John Muir.
Its located on Mount Tamalpais near the Pacific coast, in southwestern, Marin County, California. It's a stunning place to have a staycation with your family.
CHECK OUT: 5 Top deals for hiking gadgets on Amazon.
17. Stanford
Stanford University has two great indoor art museums, but it also has a couple of great art exhibits. Some of the gardens at Stanford are Rodin Sculpture Garden and Papa New Guinea Sculpture Garden. Your kids will love this place.
18. Stinson Beach
This beach is about a 35-minute drive from the Golden Gate Bridge. The beach is a popular day trip for people in the San Francisco Bay Area, and it's also very famous among the tourists visiting North California. It's a great place to spend a staycations day out with your family.